EMINENCE ORGANIC SKIN CARE BODY TREATMENTS
The Spa has carefully selected the following spa body treatments from Eminence Organic Skin Care for their ability to improve the tone and texture of your skin and relax and rejuvenate your body and mind.
Body Treatments
Indulge your self! We offer a full menu of body treatments with your particular needs in mind. You may choose from our menu selections below to find the treatment right for you or have one of our technicians customize one from our Eminence products especially for your skins needs.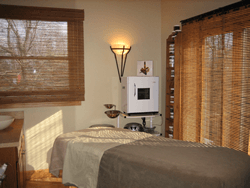 Chocolate Truffle
Wrap yourself in the most amazing chocolate truffle this side of chocolate fondue. This treatment will cover you top to bottom with an antioxidant icing of the finest cocoa and nutritious active ingredients hand picked for their age-defying benefits and skin properties.
Hungarian Mud Masque
Especially suited for sore muscles and/or irritated acneic skin. This treatment starts first with a light brushing and then an application of a mineral-rich Hungarian Herbal Mud Masque. The body is then wrapped to encourage perspiration and release toxins fmm the skin. While relaxing, the neck and head are treated to a massage, followed by an application to the body of an organic body lotion to soothe the skin.
Herbal Cellulite Wrap
Helps to improve cellulite conditions through high blood circulation resulting in a firmer more elastic epidermis and a reduction in the visible signs of cellulite. The body is first dry brushed and then treated to an herbal cellulite masque and wrap. The skin will feel very 'spicy' as its circulation increases and is not recommended for persons with sensitive skin.
Hot 'n' Cold Signature Treatment
Extreme sensory pleasures are dervied from this refreshing chilled masque and warming wrap. Beginning with a light scrub for receptivity, a cool blend of stone crop, an exotic succulent historically used to increase the moisture content and health of all skin types is generously applied. Then a wrap of thermal blankets and hot towels are applied while your feet and scalp are treated to a massage. The uncommonly stimulating contrast of cool and warm is not only a delight to the senses but also excercises the skin on a cellular level. This body renewal is finished with a light message of organic Stone Crop Whip Moisturizer for a radiant replenished body.
Almond and Mineral Body Polish
An invigorating, exfoliating treatment using finely crushed almonds uncovers gorgeous skin that feels soft and supple. Active herbs stimulate oxygenation of your skin for an all over irresistible glow that demands attention! This body polish is especially good for dry, dehydrated, non-sensitive skin.
Organic Back Treatment
A specialized spicy treatment using old world spices blended with fruits and herbs to target problem areas of the back. Reduces inflammation, as well as reducing breakouts. Steam and extractions are followed by a light massage with a masque to follow.
Tax not included in above pricing…….
and don't forget…
A Sam Wanna Gift Certificate is a wonderful and thoughtful gift for all of those special people in your life. A gift you can give over and over for special occassions, birthdays, weddings or just to say thank you! Gift certifcates are available for any service or amount.