EMINENCE ORGANIC SKIN CARE FACIALS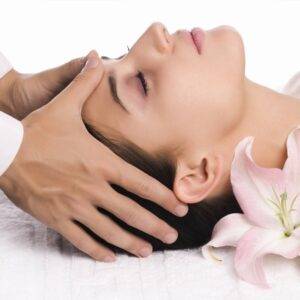 Advanced Acne Treatment, Arctic Berry Renewal Facial, Fire and Ice, Nirvana, Organic Hungarian Facial 
Eminence Organic Facial Treatments/Services
Indulge your self! We offer a full menu of facial treatments with your particular needs in mind.
We feature Eminence Organic Skin Care Products!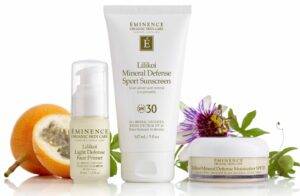 Fire and Ice
A positively stimulating facial that will leave your skin glowing, detoxified and firm! Using fresh apple and grape pulp to infuse natural fruit acids into the skin and paprika to stimulate circulation and detoxify the skin, a fantastic exfoliation is achieved. This is finished with a cooling application of chilled organic masques and creams lightly whipped to suit your skin type. Our absolute best anti-aging facial.
Time 90 min  Price $135
Nirvana
Custom tailored for both women and men, choose from an array of the very luscious fruit, vegetable and herbal skin care products handcrafted by Eminence Skin Care of Hungary. These organic ingredients have an incredibly rich aroma, with natural pure vitamin infusions and a high bioflavanoid content. This selection addresses a variety of skin care concerns such as premature aging, sun damage, loss of vitality, congestion, acne and lack of tone. This special facial is completely customized to fit whatever your needs may be, including a pampering neck, hand and arm massage followed by warm soothing hand and foot mitts. Extractions are included.
Time 90 min  Price $135
Organic Hungarian Facial
A relaxing one hour facial catered to your needs using only the best all natural organic products from Hungary. Includes cleansing exfoliation, treatment, masque and moisturizer. You wiII leave feeling radiant and refreshed.
Time 60 min.  Price $90
Arctic Berry Renewal Facial
The Arctic Berry Peel & Peptide Illuminating System is an advanced resurfacing treatment. The Arctic Berry Peel targets blemishes, uneven skin tone, and fine lines to reveal a new level of luminosity to your skin. Deep exfoliation combined with a botanical peptide infusion will leave you with an instantly younger-looking appearance. Suitable for sensitive skin types.
Time 60 min  Price $100
Series of 4 Treatments $360
Advanced Acne Treatment
Treat moderate to severe acne with our proven time released encapsulated salicylic peel. Treatments given by our Esthetic Specialist every 7-10 days for 28 days. Includes our 3-step take home acne system to clear and prevent further acne break-outs and significantly accelerate wound healing.
Time 60 min.  Price $370
Add On Eminence Facial Services
Eminence Eye Treatment  $15
Eminence Lip Treatment  $10
Eminence Arctic Berry Activator Peel  $15
Tax not included in above pricing ……
and don't forget…
A Sam Wanna Gift Certificate is a wonderful and thoughtful gift for all of those special people in your life. A gift you can give over and over for special occassions, birthdays, weddings or just to say thank you! Gift certificates are available for any service or amount.