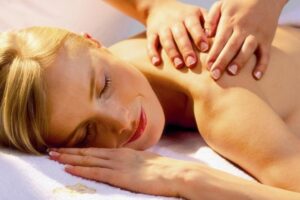 Relaxation Massages, Couples Relaxation Massages, Therapeutic Massages, Hot Stone Massages, Prenatal Massages
Massages
Indulge your self! We offer a full menu of massages with your particular needs in mind. Treat yourself to a relaxation, therapeutic or hot stone massage from our experienced staff today. Expectant mother? Our pre-natal massage may be just what your body deserves at this special time.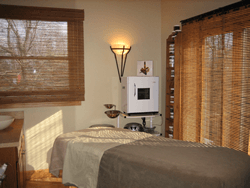 Relaxation Massage
Long strokes and kneading techniques are used on the superficial layers of the muscles to improve blood circulation, range of motion and relieve muscle tension.
Time 30 min   Price $70
Time 60 min   Price $ 90
Time 90 min   Price $120
Couples Relaxation Massage
Enjoy simultaneous massages together in our couples suite.
Time 60 min   Price $ 170
Therapeutic Massage
Slow strokes and deep finger pressure are applied to be deeper layers of muscle to release contracted areas~ The therapeutic massage focuses more on alleviating pain.
Time 30 min   Price $80
Time 60 min   Price $100
Time 90 min   Price $135
Hot Stone Massage
Heated stones are placed on different areas of the body to relax you and prepare your muscles for massage. Stones are also used as a massage tool in conjunction with the therapist's hands.
Time 75 min   Price $130
Prenatal Massage
Ease your aches and pains with a prenatal massage. Focuses on the needs of the mother-to-be. Not only will this massage help you sleep better but it will also help with back and neck pain, improve rnuscle tone and stimulate your circulatory system.
Time 30 min  Price $75
Time 60 min  Price $95
Seated Chair Massage
See or ask provider for pricing
Tax not included in above pricing….
and don't forget…
A Sam Wanna Gift Certificate is a wonderful and thoughtful gift for all of those special people in your life. A gift you can give over and over for special occassions, birthdays, weddings or just to say thank you! Gift certifcates are available for any service or amount.